After all the waiting, my girls have finally come home. I've never felt so acutely aware of just how small our little Japanese-style apartment is until now, but I'll take all the cramped spaces necessary if it means I get to have them home with me. It was a ridiculously busy day with lots to be done, but it was a good one overall, starting with Miss Emi getting her wake up call in the morning.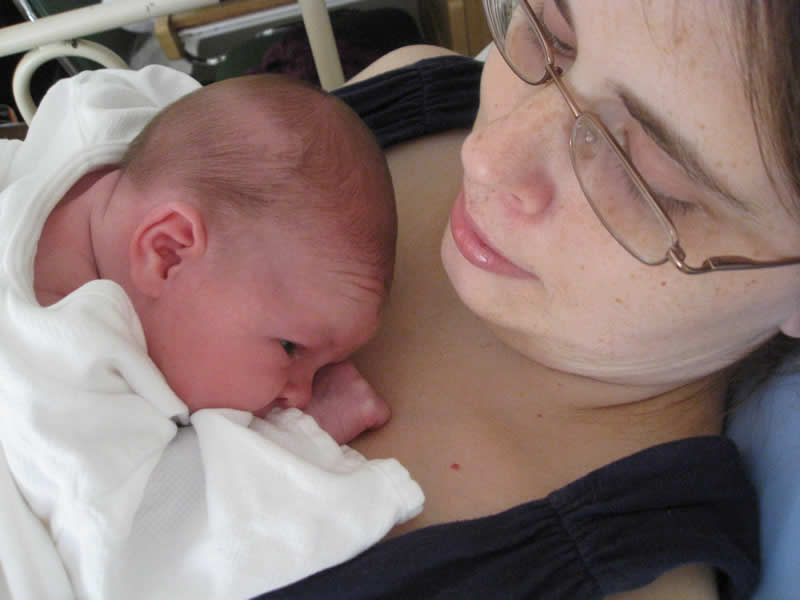 Unfortunately, not long after this wake-up call, I had to head in to work for a few hours before I could bring my family home from the hospital. I remember working on some paperwork, but not much else stuck in my head. I was too distracted by my excitement like kid on Christmas Eve. Or a fat man on his way to a Sizzler. Take your pick – they're equally evocative and poignant.
When I did finally return to the hospital, I was greeted by the sight of my little baby girl dressed up in a beautiful ceremony dress that Sara's friend Yumiko gave to her.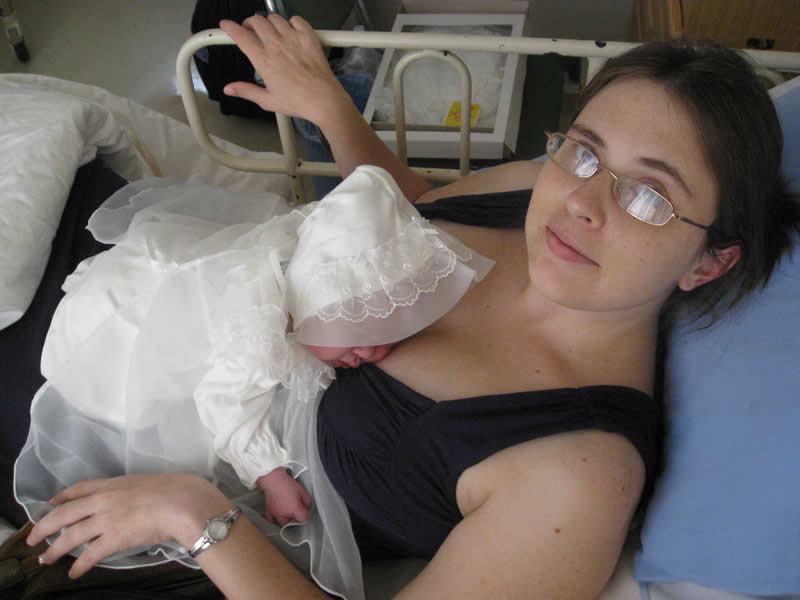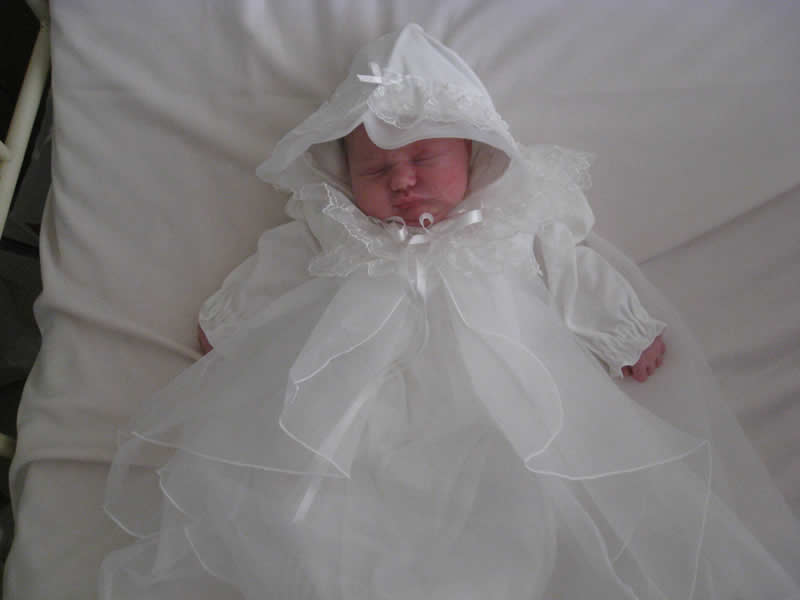 We got everything all packed up, said our goodbyes to the hospital staff, and headed out to catch a cab back to the homefront. In some ways, it was almost a sad parting, as some of the hospital staff was very nice, but I was glad to finally be taking my girls home, and I know Sara was glad for the prospect of being able to eat some food that didn't make her stomach upset just thinking about it. So, we piled our stuff in the trunk of the cab, got in the car and headed off to our apartment. Emiko thoroughly enjoyed her first car ride.
Who am I kidding? Emi slept during the whole process of packing up, leaving the hospital, riding home, and meeting the animals who were here impatiently waiting to meet her.
Actually, the dog and cat were just happy to see mommy again. They were probably getting sick of having only me around for the last week or so. The introduction of Emi to the pets went well for the most part. Surprisingly, Maja seems to be dealing with the baby very well, which is great because I thought for sure the cat was going to be the one trying to kill Emi-chan in her sleep. Einstein likes the baby well enough I suppose, but has a hard time figuring out exactly how to deal with her. As a humorous aside, at one point Emi started crying, and the dog started crying right along with her. I'm not sure if it was sympathy, jealousy, or confusion that sparked such a reaction; sympathy for her plight, jealousy that she was getting all the attention, or confusion over exactly why that strange little two-legged puppy was making such a racket.
Once she woke up and calmed herself down a bit, we introduced her to the little play chair thing we got her to keep her occupied. Returning the favor, she introduced us to a couple of new expressions: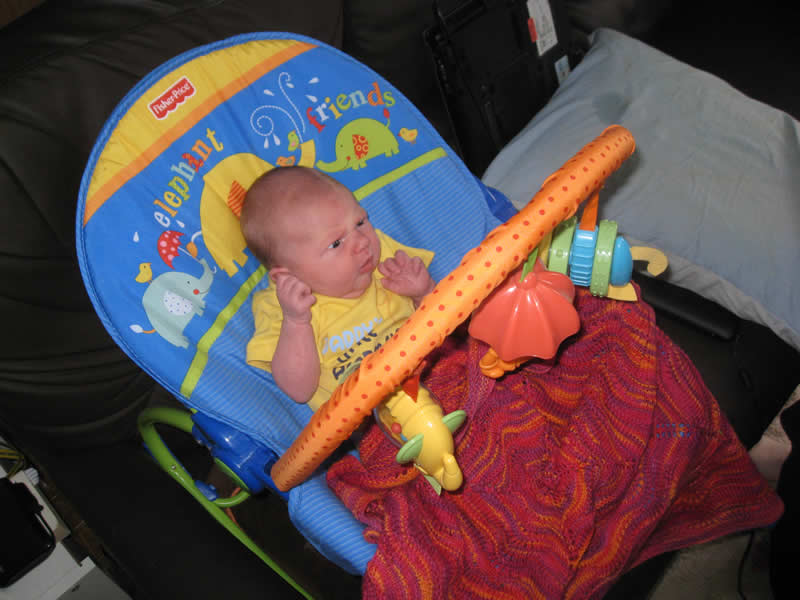 WTF!!!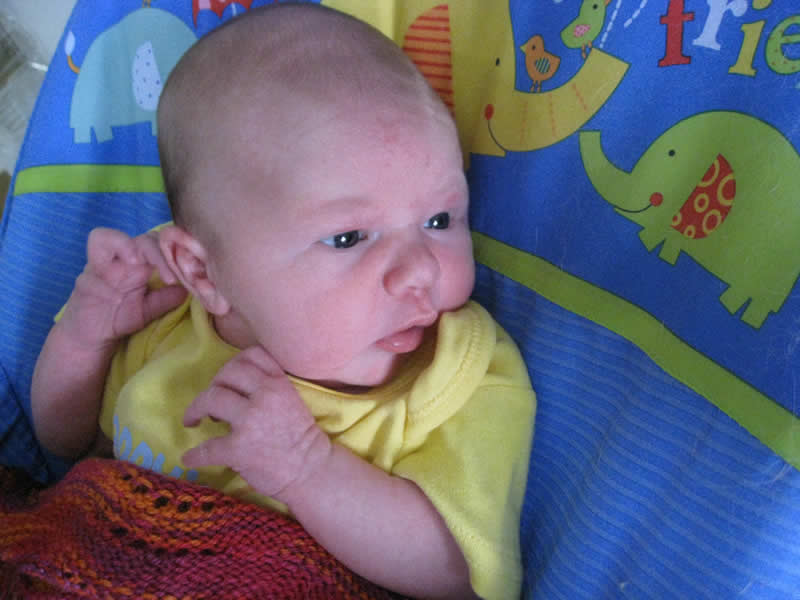 "I'm Emiko Renee Whitaker, and I approve this message.
(Paid for by Whitaker for President.)"
We were at home for a while doing some last minute tidying up and preparing for Rebecca and Siobhan (Sara's mother and sister) to arrive. Emi was pretty calm by this time for the most part, with a few minor exceptions, and once all the excitement that entered on the heels of their arrival died down a bit, Emi was back into full sleep mode, and looking for a little bit of N.O.D. action, which I was happy to oblige.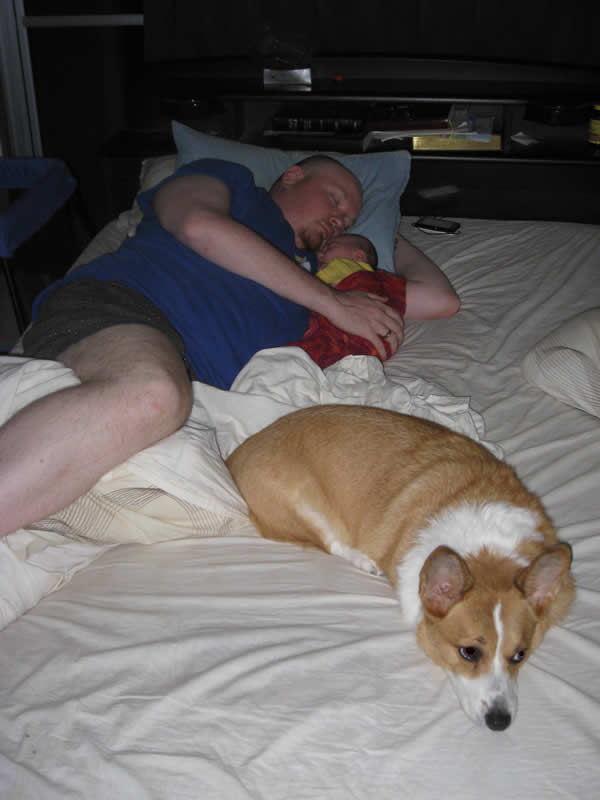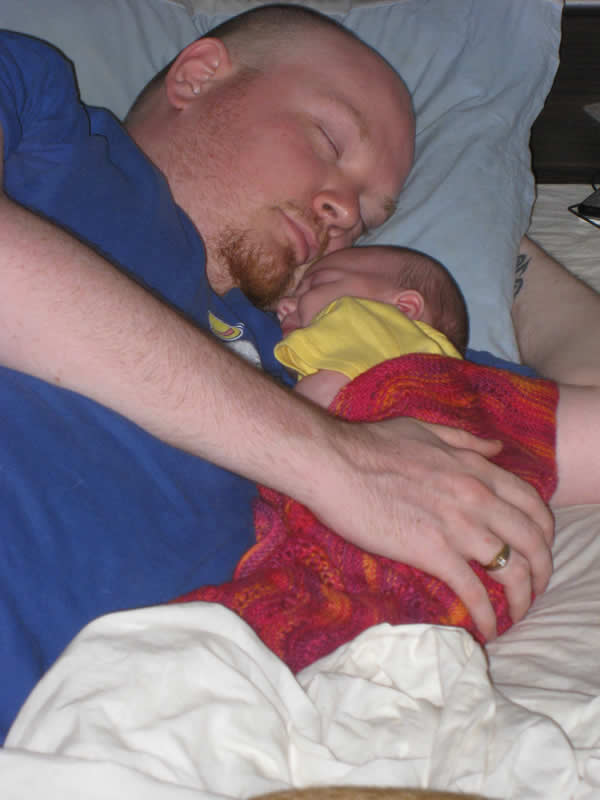 She had one more wake-up for a quick meal before she went down for the night. And when I say the night, I mean about 3 hours. After her feeding, I took her back from mommy and got her ready for sleep with Daddy's Magic. Unfortunately, the shirt I was wearing fell victim to Emi-chan's Super Baby Vom attack, and lost the battle for night-wear supremacy. It never stood a chance. So, SuperDaddy went and grabbed his robe that he bought about 80 pounds ago, and wrapped himself up so he could resume his nap surface services.
I've been waiting so long, and finally I have my whole little family together and home at last. The last week with Sara and Emi in the hospital has been difficult to say the least, especially since I knew what it was I was missing, but I've been waiting for this moment for years – long before Sara was pregnant with Emi. In fact, long before I even met Sara. Looking back on it now, I'm not sure I would trade any of those moments of seemingly endless waiting for anything anyone could offer. Changing anything would change who my little girl turned out to be, and I'm just not down with that idea. At the risk of treading into dangerously cliche territory, I love little Emi just the way she is. I love my whole little family just the way it is. It's as close to perfect as I'll ever see in this lifetime.
And now, finally, here we are together at home. Our home.
It was well worth the wait.
-Matt